Who Pays for My Child's Medical Bills When There is Bicycle Accident with a Motor Vehicle in Florida?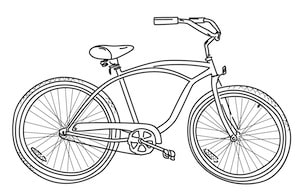 In Jacksonville and other communities, children ride bicycles on daily basis. Many ride in their local neighborhoods. Some ride to the park, to a friend's house, and elsewhere. Any time, a motorist sees a child riding a bicycle - the motorist should slow down and pay close attention. Many accidents involving children bicycles can be avoided with careful and slow driving in areas where children ride their bicycles. While traveling at a slower speed, a driver has a better chance to react and avoid hitting a child who may be riding on or near the street. As a Florida Child Injury Lawyer, I am often asked the following question:
What if a child is injured by riding a bicycle by a motor vehicle in the state of Florida? This is somewhat of a broad question that can have many answers and issues. First and foremost, the child should get medical care as needed whether it is from a first aid kit, fire rescue, urgent care center, pediatrician, or an emergency room. While it would be helpful to have photographs of the scene of the accident including the roadway, the motor vehicle, and the bicycle, there is not always time to take such photographs or the ability to think about taking photographs or video especially in the rush to protect the child from further harm and to get the child immediate medical care.
When a child is injured in a motor vehicle accident while riding a bicycle, the medical bills can be quite substantial. Who pays for the medical bills? The answer is not necessarily left to common sense. In other words, one would think that the at fault driver would be responsible for all of the medical bills. Well, that would make sense but it is not in tune with the applicable insurance laws in the State of Florida. An injured child bicyclist may qualify for the payment of medical bills under an automobile insurance policy for his or her parent. That's right, if the parent owned a vehicle that was covered by automobile insurance, then the bills will get filed and processed under the parent's automobile policy through the PIP (Personal Injury Protection) coverage. This may not seem fair or just but this is how some of the insurance laws work. The child may also qualify for PIP coverage under a resident relative's automobile insurance policy as well.
A review of the applicable automobile insurance policy will determine the amount of coverage (if any) for medical bills for the injured child bicyclist. If a parent does not own an automobile and there is no automobile insurance otherwise in place with the child as a named insured or family member insured under the policy, then the injured bicyclist may qualify for the payment of medical bills under the at fault driver's insurance policy.
In the State of Florida there are laws known as No-Fault laws. These laws mostly pertaining to the payment of medical bills resulting from an automobile accident. Because of the complexities of insurance and other matters, it is usually helpful for a parent to seek advice, consultation and legal representation when necessary, qualified Florida Child Injury Lawyer.
The book titled - When the Wheels Stop Spinning - Legal Rights of the Injured Child - What Parents Should Know After the Accident - has chapters on Medical Bills and Insurance, Automobile Accidents, Bicycle Accidents, Pedestrian Accidents, Wrongful Death, and other topics. You can get this book for free at When the Wheels Stop Spinning.