Injury Books
David A. Wolf is an attorney, advocate, and author on behalf of injured children as well as injured adults. Throughout his legal career which spans over 27 years, David A. Wolf has dedicated his practice areas to those that represent, protect, and enforce the rights of individuals who have been injured due to the negligence or fault of others. In the aftermath of a personal injury, there are challenges and a wide variety of issues to deal with. These challenges and issues include but are not limited to medical bills, medical treatment, lost wages, missed time from school, insurance issues, pain, suffering, mental anguish, loss of enjoyment of life, disabilities, and other challenges and issues. Whether a person is injured as a result of an automobile accident, bicycle accident, day care center incident, school incident, trucking incident, dog bite incident, premises liability, cruise ship / boating incident, or some other event or accident, it is important to get an experienced Florida Personal Injury Attorney in place to make sure that the legal rights of the injury victim are optimally protected and enforced.
Whenever there is liability or automobile insurance, a business, a school, a day care center, a government entity, or other organization involved, the other side will typically have immediate access to legal advice from in-house attorneys or retained attorneys. The injury victim and family should have legal representation as well. It is also important for the injury victim and family to understand the applicable legal rights, appropriate courses of action, available insurance, and other information that may affect the pursuit of the personal injury claim or case. There are many pieces to the puzzle the comprise a personal injury case or claim. This is especially true when a child is the unfortunate victim. To assist his clients, prospective clients, and others, David A. Wolf worked during the past 7 years to put his knowledge, research, and general advice into 10 books that have been published. Each book is available for free for those seeking information regarding a personal injury or incident. Of course, a book is not a substitute for the presence, skill, work and advocacy of an experienced attorney; however, the books do contain valuable information and tips that can and will better educate the injury victim and family. In addition to the books, David A. Wolf is the author of over 3500 articles that have been published through the Florida Child Injury Lawyer Blog and the Child Injury Lawyer Blog. He has been interviewed by Time Magazine and other media outlets for his opinions, assessments, and knowledge regarding personal injury cases.
David A. Wolf provides a FREE CONSULTATION on all personal injury cases. He is available during the typical work day as well as early mornings, evenings, late evenings, nights, weekends, and holidays. If you are seeking a voice and advocate for a legal or insurance case, contact David A. Wolf. If the case is accepted for representation, it will be handled on a contingency basis (i.e. No Recovery - No Fees). David A. Wolf firmly believes in Giving a Voice to Injured Children and Their Families. Get D Wolf On Your Side - At Your Side.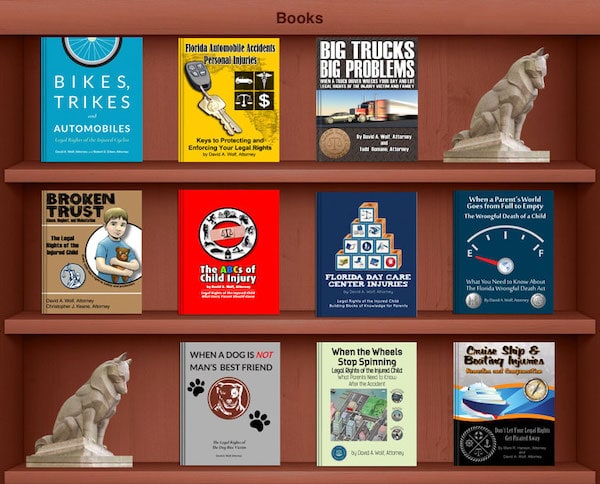 Free Books on Child Injury
---
Free Books on Personal Injury