What Type of Automobile Insurance is Required in the State of Florida?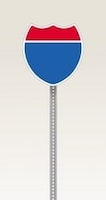 In the State of Florida, all owners of operable motor vehicles which include passenger vehicles have a duty to obtain the State mandatory automobile insurance coverage. There is often times confusion as to what is required to be obtained for the State of Florida guidelines and what constitutes "full coverage".
First, let's address what is the State of Florida minimum mandatory coverage motor vehicles. The owner of a motor vehicle is required to carry two types of insurance coverage as follows: PIP (Personal Injury Protection) and Property Damage.
PIP (Personal Injury Protection)
PIP otherwise known as Personal Injury Protection provides for the payment of medical bills and under some policies wage loss for for the owner of the vehicle, resident relatives and passengers under certain circumstances. The amount of benefits that will be paid out will depend on the facts and circumstances following the automobile accident. Payment for medical bills can range from Zero to "Up to $2,500", to "Up to $10,000". A Florida Personal Injury Attorney can help explain the details of a policy and how it works. There are certain forms and time limits that apply to PIP claims. As such, it is important to get advice, guidance, and when necessary legal representation on these matters.
Property Damage
This type of coverage will pay for the property damage of the other vehicle owner if the insured owner the vehicle/policy is at fault for the accident. The typical policy ranges from $10,000 to 25,000 for this type of coverage.
As noted above, a person is complying with Florida law if the owner has PIP and Property Damage coverage. Unfortunately, if you or loved one is involved and injured in a Florida automobile accident with a vehicle owner carrying only the state minimum mandatory coverage, the only insurance that will be paid out by the at fault driver's policy will go to fix or replace your vehicle and that's it. The other vehicle owner's insurance will not pay the your medical bills or the medical bills of your child. Furthermore, there is no insurance under the minimum mandatory policy available to pay for your pain and suffering or other losses. Again, the only coverage available under this scenario will be for that regarding the vehicle damage.
When dealing with automobile accident cases and insurance related matters, a Florida Personal Injury Lawyer can discuss these issues with the client as part of the initial consultation and as part of the ongoing representation. It should be noted that when a person is at fault for an accident, all damages can be pursued against the at fault person; however, it is often times difficult to obtain compensation or payment from a person who lacks insurance or has a low limit type of policy because of the consumer and debtor protection laws available in the State of Florida.
Clients often visit my office and tell me that they have "full coverage" insurance. Under Florida law, there is really no such thing as full coverage insurance as defined by the Florida Statutes. It is a term that or slang that is been developed over time and used by many people. The better way to look it insurance is similar to a buffet or an a la carte type of meal. A vehicle owner has many choices regarding types of insurance and amount of coverage to obtain and purhase.
In addition to PIP coverage the Property Damage coverage, a vehicle owner also has the ability to purchase the following types of coverage:
Medical Payment Coverage;
Collision Coverage;
Bodily Injury Coverage; and
and Underinsured / Uninsured Insurance Coverage.
When obtaining insurance in the State of Florida, it is important to discuss all types of insurance that be obtained with the insurance company or insurance agent. It should be noted that the more insurance you have the more it will cost; however; it is important to have coverage under all of these types of insurance. When you obtain coverage under all of the above categories, you will be better able to get compensated for your wage loss, medical bills, vehicle damage, and pain and suffering related damages.
A good resource regarding automobile accident and insurance issues is the book - When the Wheels Stop Spinning - Legal Rights of the Injured Child - What Parents Need to Know After the Accident. The book has chapters on Automobile Accidents, Bicycle Accidents, Pedestrian Accidents, Automobile Insurance, and other topics. You can get this book for free at When the Wheels Stop Spinning.