What Supervision Should be Provided to Special Needs Children at a School or Day Care Center Playground?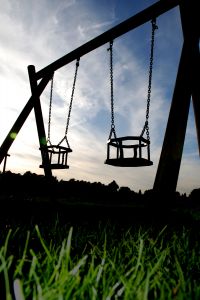 In Florida schools and day care centers, iFlorida special-needs children are accepted for admission and enrollment. When a special needs child is accepted into a educational facility - whether it is a school or day care center - the teachers, aides, and administrators should be aware of the child's needs and abilities. The level and type of supervision provided to a special needs child will depend on a number of factors including the following:
Physical Abilities and Challenges. It important for the staff to know the physical abilities and challenges of the special-needs child so that assistance and supervision can be properly provided on the playground. Some special-needs children can climb. Some cannot. Some need assistance when maneuvering steps and stairs. Some special needs children have vision problems that make it more difficult using or playing on certain playground equipment. Because of these and many other traits, it is important to provide the level of assistance commensurate with the needs of each child under the care and supervision of a school or day care center.
Cognitive Abilities and Challenges. Many special needs children have cognitive challenges that should be considered when determining the level and extent of supervision on the school or day care center playground. Many of these children also have physical challenges as well. The school / day care center staff should be well aware of the abilities and needs of each child enrolled in the facility. Many children especially those with special cognitive needs do not understand or recognize many dangers present in a typical playground. Because of this, supervision needs to be geared to address the cognitive challenges of the child.
Staffing. When determining the level and extent of the supervision provided to special needs children on a playground, it is also important to assess the overall need of the group that is playing. For example, let's say that all 10 of the children have special needs that require supervision and assistance. Then, the staffing of just one staff member would be inadequate. Guidelines should be met for staff to child ratio that are set forth for day care centers and schools. This is especially important when there are special needs children present in the group. The equipment for use on the playground should also be considered when determining staffing levels and supervision during recess or play time. Some playground equipment is quite basic. Other playground like swings, ladders, monkey bars, and merry-go-rounds can present a serious risk of danger / injury for a special needs child.
It is important for the every Florida school and day care center to evaluate the child's needs as well as the playground equipment available for use when determining the level of supervision. When a special-needs child is injured it on a playground, it is often helpful for parent to consult with a Florida Child Injury Attorney to determine the respective rights of the injured child and the parents ability to collect damages and compensation for the injuries sustained by the child. The book titled - Florida Day Care Center Injuries - Building Blocks of Knowledge for Parents - has chapters on Outdoor Facilities, Playgrounds, Record Keeping, Emergency Procedures, and other topics. You can get this book for free at Florida Day Care Center Injuries.