What Injuries to Children Can Be Prevented at a Playground at School, Day Care Center, or Summer Camp?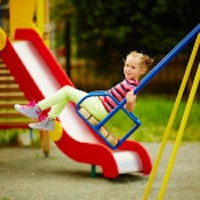 During the summer months and the rest of the year, children enjoy the fun and adventure of spending time on a playground. Whether it is at the day care center, school, summer camp, or public park, a playground can provide hours of entertainment and activity for children - especially toddlers and pre-schools. Of course, elementary aged children also enjoy going to the playground but as they grow older - the playground loses some of its luster to these children. For the children who still love to go to the playground, there is great fun but also a risk of injury any time that a child spends time on a playground.
During the summer months, a child can get injured on a playground in a number of ways. One such way is being burned by the hot ground or hot playground equipment. While a playground owner / operator / supervision cannot do much about the weather, safety precautions can be taken on the playground itself by making the sure that the equipment is made with materials and coating that protects the children and that the ground cover is made of materials that also protect the children in a reasonable manner.
When a child is enrolled in a summer camp, day care center, school, or other program, child care providers, supervisors, and counselors should first inspect the playground equipment to make sure that it is safe for use by the children. If the playground equipment is so hot that it can burn a child, then the equipment should be some how cooled down or otherwise kept off limits to the children. Inspections and safety are absolutely necessary for the protection of small children who do not always understand or appreciate the dangers that are out there including those dangers on a playground. The United States Product Safety Commission recommends the following:
Watch out for danger of injury from concrete and asphalt ground surfaces;
Inspect plastic surfaces - especially ones darker in color which attract more heat;
Inspect and monitor all plastic, rubber, and metal areas which may contact the child's body / skin including swings and slides; and
Beware of any uncoated or worn surface areas of playground equipment.
When a child comes home from a day of adventure on a playground, a child should come home with a smile on his or her face with stories of great fun. Certainly, a child should not return home with severe personal injuries because the playground equipment was not properly inspected by the child care providers.
If a child is injured due to the negligence of another person or entity like a day care center, community center, neighbor / friend, school, or summer camp, a parent should seek out legal advice to find out the course of action that may be taken to recover damages including medical bills, lost wages of the parent, and pain and suffering of the injured child. The book titled - The ABCs of Child Injury - Legal Rights of the Injured Child - What Every Parent Should Know - has chapters on Homeowner's Insurance, Day Care Center Injuries, School Injuries, and other topics. You can get this book for free at The ABCs of Child Injury.