What if a Child is Injured on a School Bus Hit by Another School Bus or Vehicle?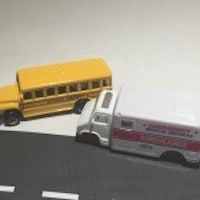 In the State of Florida, millions of students are transported via school bus on a daily basis. The typical school bus is yellow or orange in color and clearly visible to all other drivers on the roadway. When there is a school bus on the roadway, other drivers should pay due care and drive safely. Of course, this is simple common sense; however, it is important to stress the importance of driving carefully when driving near school buses. Our most precious "cargo" is on board in the form of school aged students. At times, there are crashes involving two or more school buses who are following each other on a school outing or during a transportation run. When school buses collide, the force can be quite intense and personal injuries can and do result from these crashes. There is no immunity per se from liability for school districts for the negligence of a school bus driver. This should not be confused with the legal term - "Sovereign Immunity". When a person reads the term "Sovereign Immunity", one may get the idea that a claim or case cannot under any circumstances be pursued against a government entity. The truth of the matter is that a case or claim can be pursued against a government entity like a school district when there is a school bus crash that is the fault of a school bus driver. "Sovereign Immunity" only means that there are certain notices and procedures to follow when pursuing a case or claim against a government entity. For instance, there is a required formal - technical 6 month notice that is required to be given to the school district. Furthermore, there are limitations as to the amount of compensation that can be recovered and there are restrictions or limitations on the attorney fees that can be charged by a Florida Child Injury Lawyer representing the injured child.
In Clay County - Middleburg - Florida, there was a reported crash involving 3 school buses. It was a rear end type of crash. It was reported that 100 students were being transported with approximately 23 or so being transported and treated at a local hospital. Initial reports indicate that the first two buses stopped or were stopping when the third bus crashed into the second bus which was then pushed into the first bus. The parents of the children injured in this Clay County school bus accident will be faced with the challenge of dealing with the child's medical bills, the medical treatment, and the personal injuries in the aftermath of the crash. Even though the children were on a school bus, there may be benefits available to the child under a parent's or resident relative's insurance policy. Furthermore, there may be limitations as to the total amount of compensation available to the injury victims who seek compensation for medical bills, pain and suffering, and other damages.
David A. Wolf is an attorney with over 25 years of experience in handling child injury cases including school bus crashes. He understands the importance of advocating for the injured child and providing the parents with timely and practical legal advice in the aftermath of a school bus crash or other incident causing personal injuries. He is the author of 5 books including the book titled - When the Wheels Stop Spinning - Legal Rights of the Injured Child - What Parents Need to Know After the Accident. The book covers issues including but not limited to medical bills, medical treatment, settlement and value of cases, automobile insurance, and other topics. You can get this book for free at When the Wheels Stop Spinning. David Wolf prides himself on his work ethic and availability to his clients and prospective clients days, nights, and weekends. If you have a case or claim to discuss with David A. Wolf, contact him right now and see him go into action for you. He provides a FREE CONSULTATION on all injury cases. David A. Wolf handles personal injury cases including child injury cases on a contingency basis. In other words, if there is no financial recovery, there are no fees or costs charged by David A. Wolf.