What if a Child is Hit by a Vehicle While Riding a Bicycle, Trike, or Riding Toy?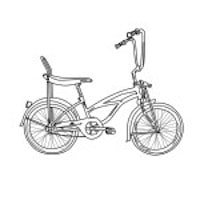 In Florida as well as other states, it is still common to read about children being injured in bicycle accidents with motor vehicles. Let's face it - a bicycle is no match for a vehicle of any size. When a child is hit while riding a bicycle, tricycle, or riding toy, there can be significant personal injuries and, in some instances, the tragic death of a child. It is important for drivers of all ages to slow down any time that there are children in the area whether they are pedestrians or bicycle riders. It should also be noted that children have poor safety awareness. As such, a driver should be on the alert for any sudden or unsafe actions by the children in the area.
When a child is injured as a result of the negligence or carelessness of a driver, there are many issues and challenges faced by the parents and the injured child. Who is going to pay for the medical bills? Is a parent's wage loss a covered expense under insurance policies? Where can the child get follow up care and treatment if there is no health insurance or Medicaid? What insurance is required for the at-fault driver? What insurance is required for the at-fault vehicle owner? When can a child get the compensation he or she deserved for the accident related personal injuries? Are there any restrictions when dealing with the settlement on behalf of a minor child? These are just a few questions of many that arise in these situations. Because of the complexity of these cases and the importance of acting in the best interests of the injured child, a parent should seek out legal representation from a Florida Child Injury Lawyer for advice, guidance, and, yes, legal representation.
A crash or accident can take place at any time of the day and at any location. A child could get run over or hit in a driveway, near a park, and even while just casually walking on or riding on a sidewalk. In Florida, there is a concept called the Dangerous Instrumentality Law. This means that the owner of a vehicle is liable for the injuries caused by an automobile / bicycle accident if the owner consented to the driver's use of the vehicle. There can be implied consent and there can be express consent.
The book titled - When the Wheels Stop Spinning - Legal Rights of the Injured Child - What Parents Need to Know After the Accident - has chapters on Automobile Accidents, Bicycle Accidents, Pedestrian Accidents, Wrongful Death, Hit and Run, and other topics. You can get this book for free at When the Wheels Stop Spinning.