What Fireworks Safety Precautions Should be Taken for the Safety of Children and Others? (Dangers of Neighborhood Fireworks)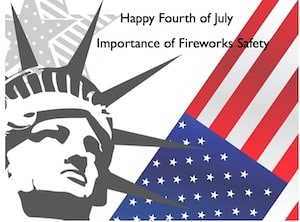 Happy Fourth of July. Well, for most of us, it will be. It is a time to spend with family and friends to celebrate this wonderful Nation we call home. Unfortunately, the Fourth of July and time period around are often marked with an increased number of child injuries due to fireworks. Many such injuries can be prevented with the implemention of safety precautions in and around fireworks. Some child safety experts state that the best way to avoid injury from fireworks is the leave the fireworks show to the experts. In other words, attend an event in which the fireworks are ignited by professionals in a controlled setting. Unfortunately, even at these events, fireworks, at times, do not go off as planned and end up hurting members of the audience.
For those igniting fireworks at home or attending a block party or neighbor's house with such fireworks, the Consumer Product Safety Commission as well as other organizations have tips to prevent fireworks related injuries to children including but not limited to the following:
Make sure that fireworks are legal in your community and county;
Read and follow the manufacturer and distributor instructions and warnings;
Never allow children to ignite the fireworks. Make sure that a responsible and sober (yes sober) adult is in charge and managing the fireworks show;
Make sure that other people (especially children) are out of range and a safe distance away from the fireworks;
Use a smooth and flat surface that is away from homes, vehicles, and any flammable materials; and
Keep a bucket of water handy in case of a fire.
Hopefully, your July 4th is one filled with fun, celebration, hot dogs, and apple pie and NOT a trip to the emergency room with your child. By following these and other simple safety precautions, most injuries can be avoided due to fireworks.
While a gun is not technically a firework, it should be mentioned that guns should not be randomly fired off in the air this Fourth of July or any other time of year. Negligent shootings seem to be on the rise during this time of year as well.
The book - The ABCs of Child Injury - Legal Rights of the Injured Child - What Every Parent Should Know - has chapters on Homeowner's Insurance, Medical Bills and Treatment, School Injuries, Day Care Center Injuries, and other topics. You can get this book for free at The ABCs of Child Injury.