What are the Risks of Apartment and Shopping Mall Parking Lots to Child Pedestrians?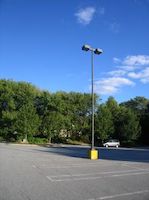 At most Florida shopping malls and apartment complexes, there is a risk or danger to children - the parking lot. Children frequently visit shopping malls with parents, family members, and friends. Children also visit or live at apartment complexes. As a pedestrian, children are at risk while walking in shopping center / apartment complex parking lots due to a number of reasons including the following:
Distracted Driving. Many drivers are distracted or are not otherwise paying attention. It is vital that a driver be alert and aware whether driving on highway at a high rate of speed or in a parking lot at a much slower speed. When a driver is distracted by a mobile phone, music, a conversation, eating, or other activities, an accident can happen which can have devastating effects on the pedestrian especially when the pedestrian is a child.
Driving at an Excessive Speed. Many parking lots have posted speed limits. Unfortunately, drivers frequently violate the posted speed limits. Driving at a high rate of speed in a parking lot is dangerous and puts children and other pedestrians at risk for personal injuries from an accident.
Poor Lighting. Some parking lots are poorly lit. This, in combination, with other factors can lead to a pedestrian accident in a parking lot due to poor visibility.
Size and Height of the Child. Toddlers and young children are often hidden from the normal view of a driver who may be in a hurry or who takes a quick look to see who is near the vehicle or in the parking lot. Because of the size and height of a toddler or young child, a driver may not see a child walking in a parking lot when the driver is backing out from a parking spot.
Poor Safety Awareness of the Child. In Florida, a child under the age of 6 years old cannot be held to be negligent or comparatively at fault as a matter of law. Children, who are 6 years old and older, can be found to be negligent or partially at fault for a pedestrian accident. The age, majority, and intelligence of the child can be considered in determining the amount of fault (if any) to be assessed to the child, who is 6 years old and older. Unfortunately, children, especially, young ones have poor safety awareness and do not recognize the dangers that are present in parking lots and other areas.
When a child is injured or hit in a parking lot as a pedestrian, there typically will be a police investigation to determine the cause and preventability of the pedestrian accident. While the police investigation is an important part of the facts available for Florida Child Injury Lawyer to review, the police investigation is not necessarily binding on a potential civil case or claim filed on behalf of the injured child. In other words, in Florida, a police officer typically cannot testify as to fault or assessment of fault unless the police officer actually saw the accident or incident as it was taking place. Because of this, a parent should contact an attorney to discuss the legal rights of the injured child when there is a pedestrian accident causing personal injuries.
A recent back over accident was reported in Clewiston, Florida. It was reported by The Associated Press that a 1 year old boy suffered critical personal injuries when he was hit by a vehicle driven by his aunt. The Florida Highway Patrol responded to the scene and will investigate the accident that took place on Christmas Day. You can read more about this story at Aunt Backs Over 1 Year Old Nephew in Clewiston, Florida.
The book titled - When the Wheels Stop Spinning - Legal Rights of the Injured Child - What Parents Need to Know After the Accident - has chapters on Common Insurance Issues, Pedestrian Accidents, Damages - Compensation, and other topics. You can get this book for free at When the Wheels Stop Spinning.