What are the Rights of Victims Suffering PersonaI Injuries or Wrongful Death as a Result of a Driver Failing to Properly Stop at a Posted Stop Sign in the State of Florida?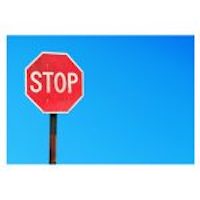 A Stop Sign is posted due to he traffic pattern and flow in a particular geographic area. It should also be noted that there should not be any ambiguities or doubts as to the purpose and function of a Stop Sign. Furthermore, it is clear that once a driver stops at a Stop Sign - he or she should diligently be on the look out for other traffic and then take whatever time is necessary to safely proceed through the intersection at issue. In Florida and other States, many automobile accidents occur due to the failure to obey speed limits and traffic signage. There is also a significant problem with Distracted Driving due to mobile phone use, Web Browsing, and Text Messaging. Many lives can be saved and many personal injuries due to Florida Automobile Accidents can be avoided by simply obeying and following the traffic signage like a Stop Sign and by being more attentive to traffic and weather conditions.
It was recently reported in Hastings, St. Johns County, Florida that four people were transported to a hospital. The intial news and media reports indicated that a pick up truck driver ran a stop sign. Due to fact that a death and serious personal injuries resulted from this Florida Automobile Accident, a full investigation including a Traffic Homicide Report will be completed by local law enforcement officials and / or the Florida Highway Patrol. Certainly, any time that a person dies as a result of a Florida Automobile Accident - it is tragic. Even more so if it is determined that that the automobile accident was avoidable with more attentive driving. It should be noted that with more attentive driving and patience - many such Florida motor vehicle crashes can be avoided.
When there is a motor vehicle crash, the personal injury victims are faced with a number of challenges and issues. It is important that the victims and families get support from their extended family, the neighborhood, churches and religious institutions, and others. The injury victims and families certainly deserve compassion in this time of need following a horrific traffic crash. It is also important for the injury victims and families to have legal representation early on in the process.
Unfortunately, far too many victims and families ultimately are unable to recover compensation from a practical standpoint if the available automobile insurance is limited to nonexistent. Florida only requires owners of motor vehicles to have very basic automobile Insruance in place in the form of Property Damage and PIP (Personal Injury Protection). If the at-fault driver involved in a Florida motor vehicle accident only has this limited cover, this will be problematic for the victims UNLESS the victims and / or the families of the victims had Uninsured Motorst insurance in place. The issues and challenges in the aftermath of a Florida traffic accident can be quite complex.
David Wolf is a Florida Personal Injury Attorney with over 25 years of experience. He has handled personal injury cases including automobile accident cases throughout the State of Florida. He is available days, nights, and weekends for his clients. Get D Wolf - On Your Side - At Your Side. Do not hesitate. Contact Attorney David Wolf right now on his mobile phone at 904-500- WOLF (904-500- 9653). David Wolf strongly believes in Giving a Voice to Injury Victims and Their Families. He is the author of 7 books focusing on personal injury matters.