South Florida Music Teacher (Dennis A. Mulder) Arrested for Texting / Sexting a Teen Student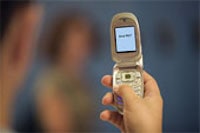 A South Florida music teach has been arrested for allegedly sending one his students suggestively sexual text messages and pictures of his erect penis. Dennis A. Mulder, the band teacher at Allapattah Flats K-8 school in Port St. Lucie, Florida, was recently arrested and charged with two felony accounts of transmission of material harmful to minor by electronic equipment. Mulder, 42, is accused of sending 3 pictures of his erect penis to a 14-year-old female student. The text messages were discovered by the teenage's mother while she was searching through her daughter's phone. The photos were discovered under a file labeled "Dennis." Police reportedly traced the number that sent the text and picture messages to a phone number registered to Mulder. The texts allegedly began in early March 2011 and included the following: "Secret: It took all I could not to grab you & kiss you today" and "Desire for you is getting stronger." When questioned by police, the female student stated her and Mulder were "just good friends." Although she admitted to police that Mulder sent her the photos she had plans on telling him they couldn't be "anything but friends." Mulder told police that he only had a strict teacher-to-student relationship and exchanged only a few text messages with his female student. However, police confirmed they found around 100 texts between the two phones and when the compared the photos to Mulder's apartment, they spotted similar floor tile and carpet in the apartment to those in the photos. Mulder is expected to be reassigned away from students while the investigation is being conducted. Mulder has been with the school district for the past four years, however this was his first year as band teacher at Allapattah.
In Florida and other States, a person charged with a crime is entitled to defend himself from the charges through legal representation from a Florida Criminal Defense Attorney or through the services of a Florida Assistant Public Defender. In the age of smart phones, iPads, lap tops, and other electronic devices, determining the proof or origin of evidence can be helped with technology. There are also unique challenges in that other people some times gain access to a person's technology and use it in an inappropriate way or manner. Because of this, it is important to retain control and custody of your computer and mobile phone equipment. It is important to also keep user names and passwords private so that others do not venture into your technology world and harm your reputation or even worse - get you arrested.
The above criminal matter will be investigated and hopefully the truth and justice will prevail through the proceedings. For more information about this topic read South Florida Band Teacher Arrested for Allegedly Sending Sexually Charged Text Messages and Photos to 14-Year-Old Student.